Football, baseball, basketball, hockey. Boring! In the United States, four team sports get all the attention. How about we look at some new sports for a change? Like maybe something that involves ferrets? These weird sports are truly strange, but for whatever reason appeal to daredevils, thrill seekers, and chess masters who also love boxing. What are the craziest, most out there sports to play? This list of weird competitive sports has exactly what you're looking for in a fun new sport to try, as long as you like worms, camels, or to wrestling.
What would make hockey better? How about if it was played underwater? Yup, that's a thing. What if instead of racing boats, people raced bathtubs? That exists too. And wouldn't polo be better if played with a goat's carcass instead of a ball? Depending on who you ask, the answer might be yes!
Turn off ESPN and take a look at some of the most truly bizarre sports being played around the world. Who knows, maybe your elementary school gym teacher who told you that you'd never be an athlete didn't realize you'd one day be an expert wife carrier? Maybe your true calling is cheese rolling? Or maybe you were born to run a camel wrestling league.
Be a sport and upvote the weirdest sports below. Then maybe go give jugger a try!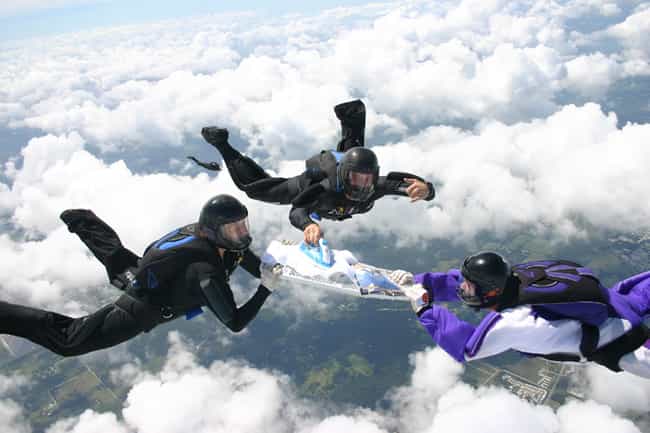 Extreme ironing is when people iron shirts in dangerous, remote locations like a steep mountainside, in a canoe, while skiing or snowboarding, on top of moving cars, underwater, or while skydiving with some friends. The sport can be done individually or in teams. Next time your mom or dad says they spent the day ironing, don't assume they did it in the laundry room.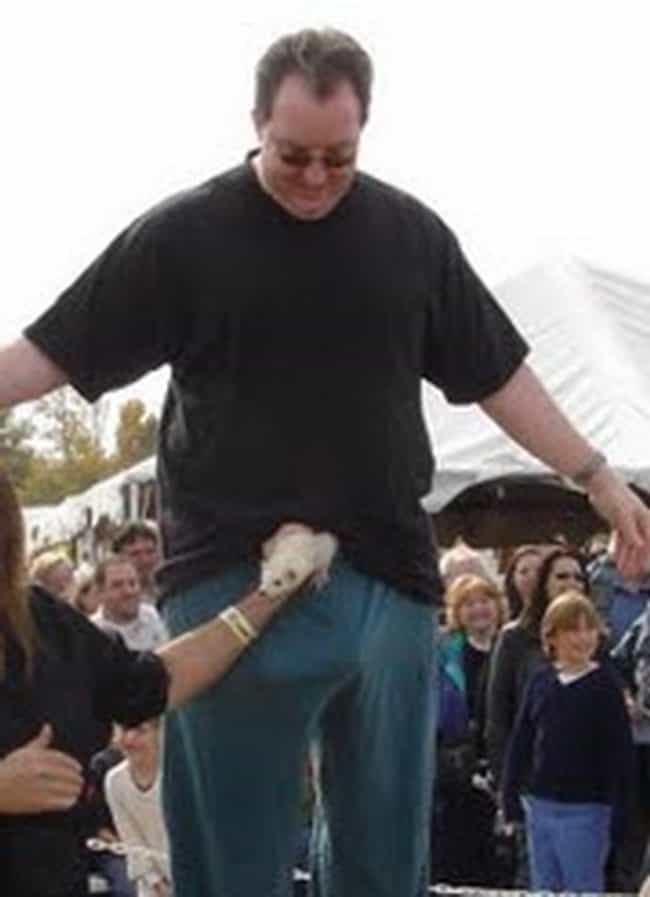 Ferret Legging is a sport played in Yorkshire, UK where competitors try to keep two ferrets down their pants for the longest amount of time. The world record is five hours and thirty minutes. Why do they do this? We probably don't really want to know.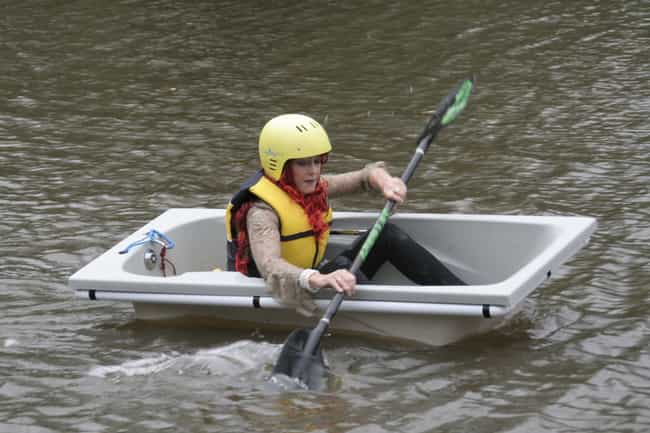 Originating in Nanaimo, British Columbia, bathtub racing is the sport of racing bathtubs down a river, either with a paddle or a motor. Events include the 100m individual time trial, the multi-bathtub race (four bathtubs racing side by side), and Synchronized Bathtubbing, which is every bit as amazing as it sounds.
Birdman Rally is a competition in which people jump of a cliff strapped to home-made flying machines. While some machines are built to go far, others are built merely for entertainment purposes and crash instantly. The sport is now played all over the world thanks to Red Bull Flugtag, a yearly competition played in different cities across the globe.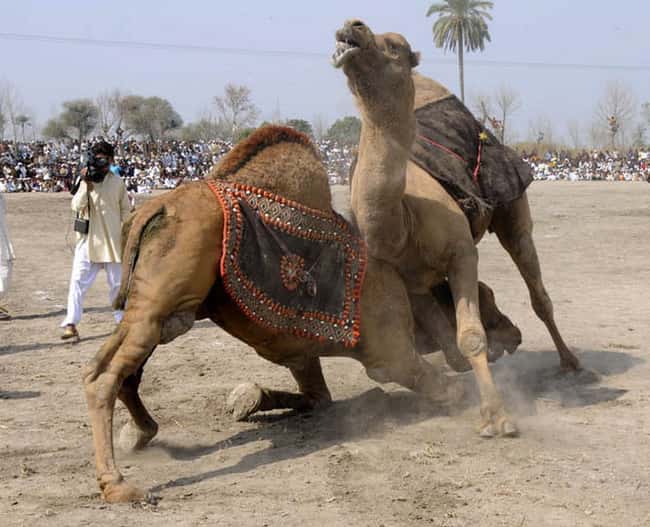 Camel wrestling dates back 2,400 years to ancient Turkey, where the sport is still played today. The sport works by leading an ovulating female camel past two male camels, who wrestle for the chance to mate. The sport is also played in other parts of the Middle East and South Asia.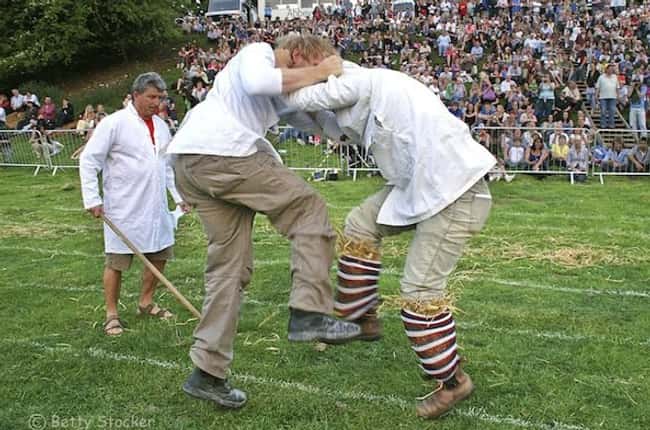 Shin-kicking is a English sport where competitors score points by kicking the other person in the shins. The sport dates back to the 17th century, but, thankfully, steel toed boots have been prohibited in the modern era.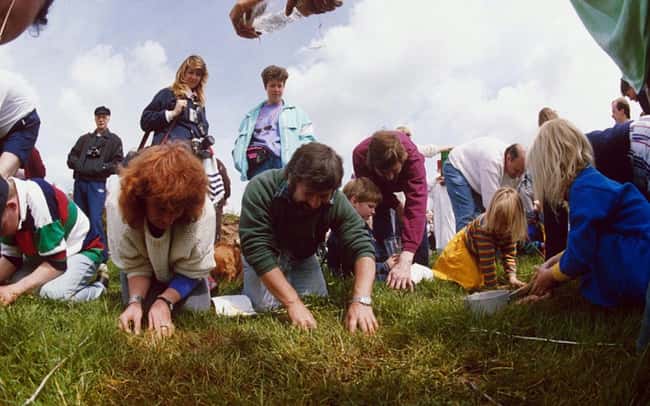 Worm charming is a sport where competitors attempt to bring as many worms to the surface as possible in a fixed amount of time. The most common tactic is to vibrate the soil using a shovel, which causes worms to surface. It largely exists in the UK and ancient worm charming tactics have been passed down for generations (yes, really!).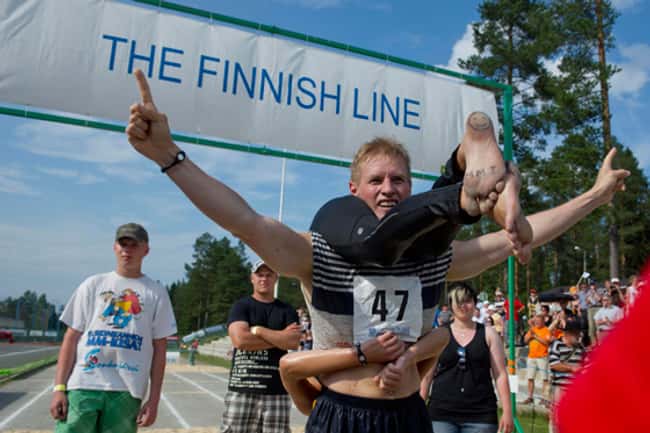 The Finnish sport of Wife Carrying is played with teams of two, a male runner who races while carrying a female teammate, who hangs upside down across his chest. The winner wins his wife's weight in beer, and society loses hundreds of years of social progress.
9
Musical Canine Freestyle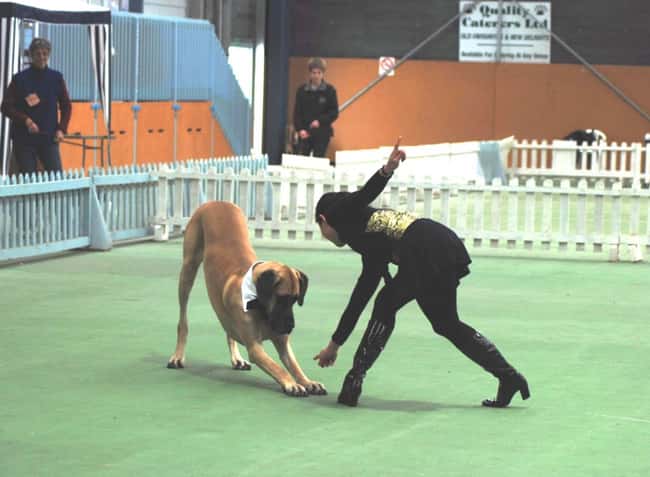 Musical Canine Freestyle combines obedience training, tricks, and movement that gives the illusion owners are dancing with their dogs. The sport is played all over the world, and according to some, is actually quite healthy for the dogs.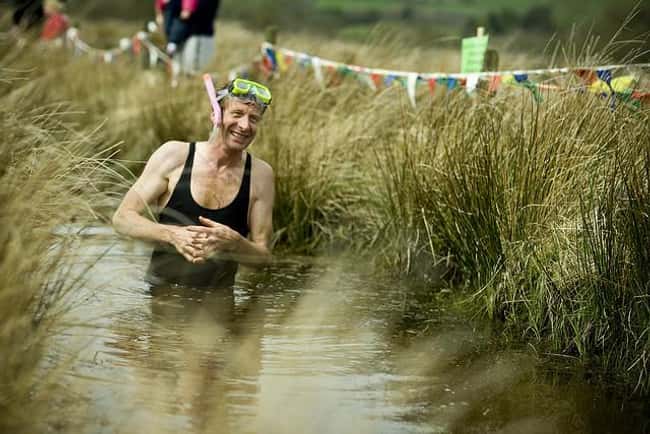 Bog snorkeling is basically a swimming race, except instead of a pristine pool filled with chlorine, it's through some nasty bog water. Competitors wear snorkels so spectators can see them through the muck, and instead of using traditional swim-strokes, racers propel themselves using only a set of flippers. The showers after a bog snorkeling event are exactly as disgusting as you probably think they are.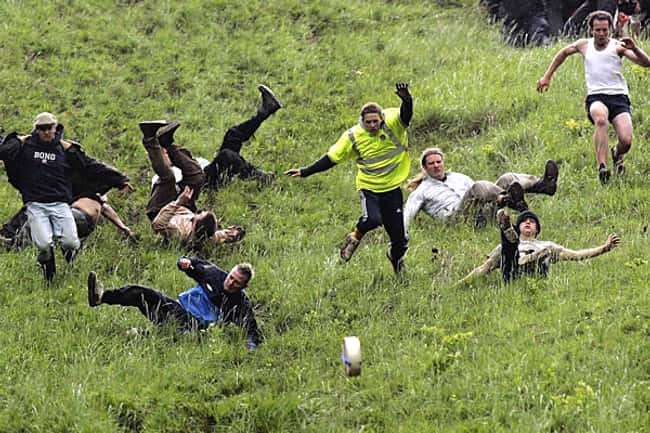 At Cooper's Hill in Gloucester, England, people take place in the annual "Coopers Hill Cheese Rolling and Wake." The sport is played by rolling a nine pound ball of cheese down the hill as hundreds of people race down to catch it. The cheese ball can reach speeds of 30 mph, which, in turn, makes the athletes look like cheese balls as they stumble and roll down the hill.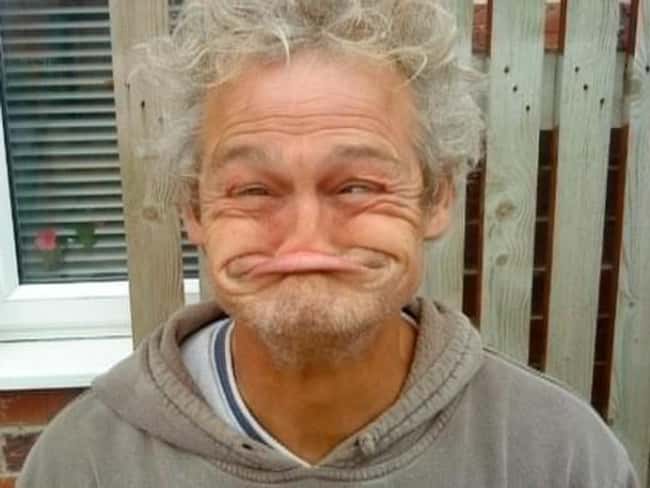 The Gurning Contest is a competition in rural England where people compete to pull their faces into the ugliest positions possible. The sport dates back to 1200s, and is still played frequently in English towns today. If you ever go to a competition be sure you're 100% positive the person with the ugly face is actually in the competition, or else a compliment might get a tad bit awkward.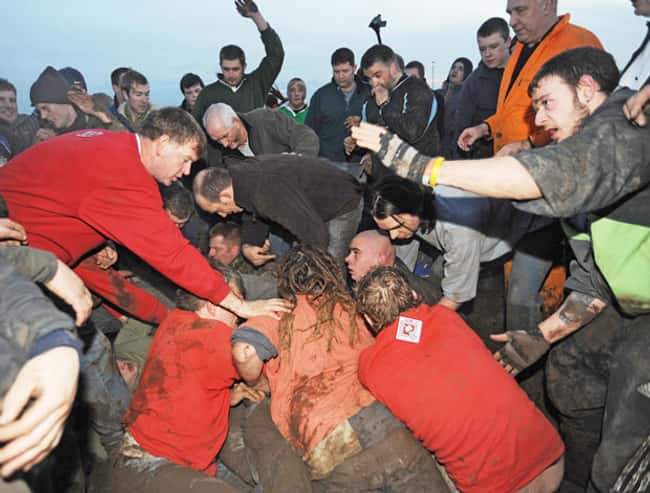 Haxey Hood is a rugby-style game with unlimited players and very few rules. It resembles a rugby scrum, where hundreds of people push a leather tube to one of four pubs, where it will stay until the next competition a year later. It might be as close a game to Calvinball that we will ever see.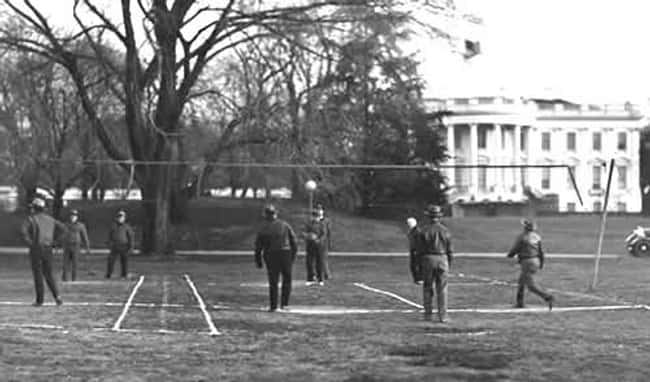 Hooverball is a volleyball-style sport played by throwing and catching a medicine ball. The sport was invented by President Herbert Hoover's personal physician. The game is still played once a year at The Hoover Presidential Library Association. Hoover might not have been able to prevent the Great Depression, but he did have a sport named after him!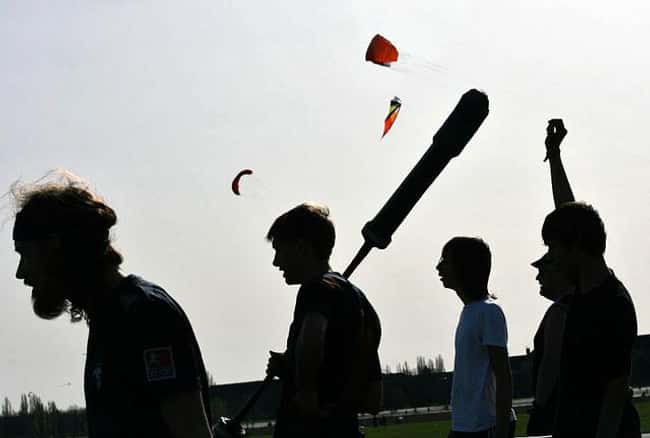 Jugger is a sport played in Germany and Austria inspired by the movie The Salute of the Jugger. The game is played with a skull (a ball resembling a dog skull), the stakes (a loop connected to the skull), a gong, 100 stones which are perpetually thrown against the gong, and sword like weapons. Sadly this sport has not taken off, whereas Quidditch is played on college campuses worldwide.
Logrolling is a sport where athletes compete to see who can balance the longest on a log rolling down a river. The sport comes from the lumberjack traditions of the United States and Canada, where it is still played today. It probably plays out a lot like a Looney Tunes cartoon.
Peashooting is an archery-like sport played in Witcham, UK where athletes shoot peas through a blow-gun onto a target. The peas are modified so they stick to the target. Finally, all the skills carefully mastered through hours of shooting spitballs at your chrush in elementary school can go to good use!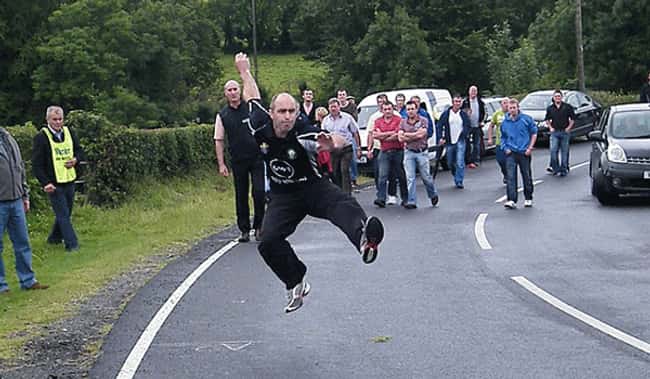 Irish Road Bowling is a sport played in parts of Ireland where competitors aim to roll a metal ball along a predetermined course of country roads in the fewest number of throws. Scoring wise, it is much more similar to golf than it is to bowling but that doesn't mean it will be played in at the country club anytime soon.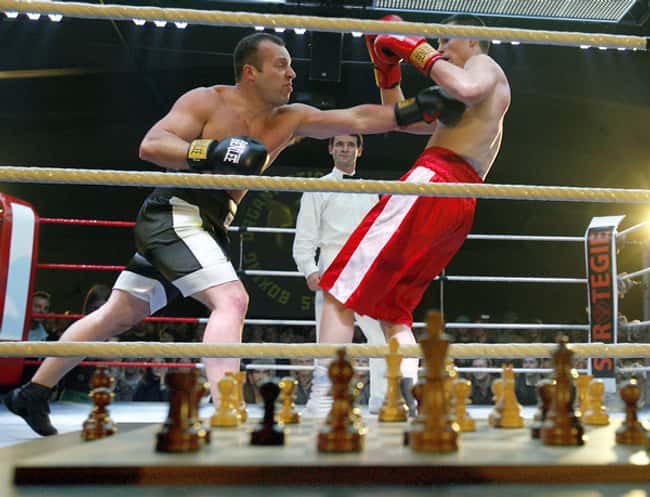 Chess boxing is a hybrid of chess and boxing. A competitor can win by either knocking out his or her opponent or putting them in check mate. Chess boxing is popular in Germany, Great Britain, India, and Russia, finally giving people a sport that allows you to punch someone in the face for taking your queen.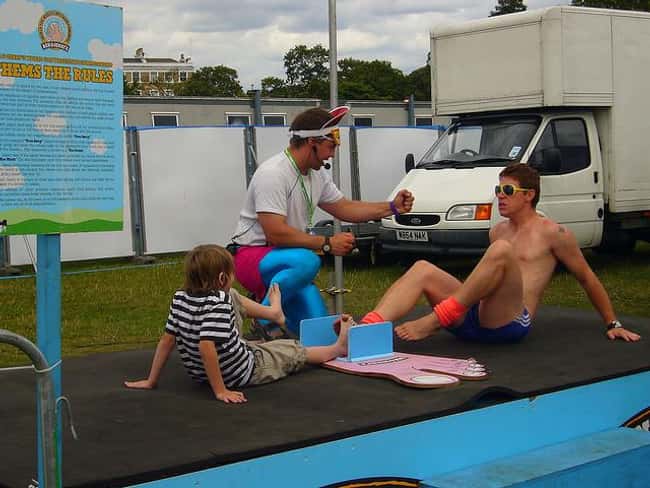 Toe-wrestling is a sport where competitors attempt to pin their opponents toes to the ground. The sport is played in the United Kingdom and anywhere mean older brothers reign supreme.
Source:www.ranker.com
Do You Have More To This Story? Send All Publications and Queries to [email protected]