Controversial comedienne and television personality Afia Schwarzenegger has waded into the beef between Tracey Boakye and Mzbel.
She has disclosed the name of the man who rented the apartment(the one at Spintex) on behalf of 'Papa No' for Mzbel.
'Papa No' has become a term fast gaining grounds on social media. It is a term used in describing the man they (Tracey and Mzbel) allegedly have been sleeping with.
According to Afia Schwarzenegger, the man who rented the apartment for Mzbel at Spintex is called Rafik.
The house was is rented for a year and proudly paid by the unknown sugar daddy.
Mr Rafik, per our checks, is a messager of the yet to be identified 'Papa No' who stood in to get the apartment for Mzbel.
The mother of twins, Afia Schwar who's also a friend to both parties involved in the banter, on social media dropped this fresh 'filla' on Instagram.
Earlier, we published an article where the controversial media personality promised to in less than 48 hours drop the name of 'Papa No'
Well, she has started to mention names of close associates of the real sugar daddy who's addressed as 'Papa No' by both Tracey Boakye and Mzbel.
In her post sighted on social media, Afia Schwar again promised to show the pictures of Rafik.
She added that she chose to keep quiet but if people want her to talk, then she will do justice to that.
Captioning her post she wrote: "The man who rented Asumasi house in spintex is called Rafik…..
…The rent is only 1 year and proudly paid by the 'Papano"
Look for him….or I will show you their pics on Monday
I said it is about to go down…I chose to keep quiet but if people want me to talk I will do justice to that"
See screenshot;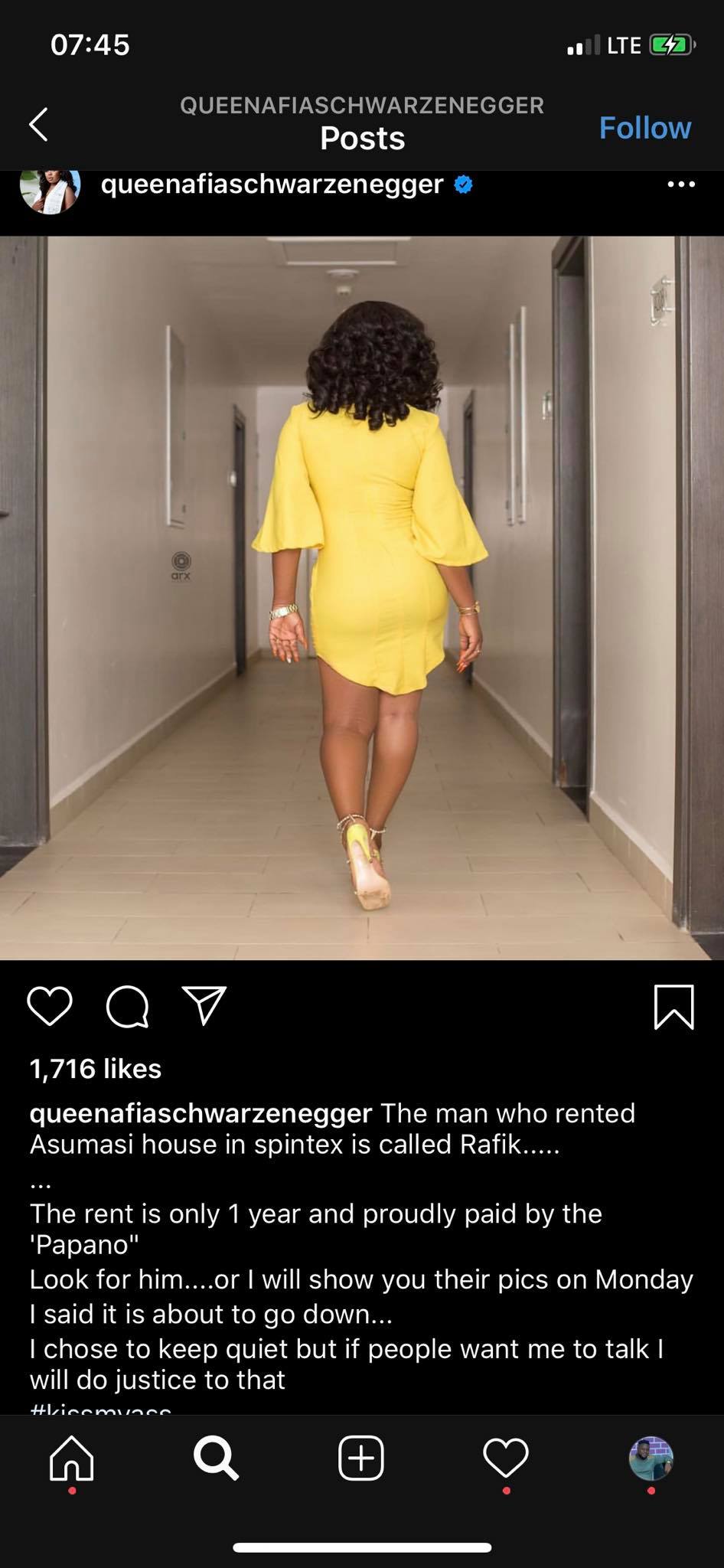 Stay tuned for the latest…
–ghpage