Ghana News
Covid-19: Heavy trucks of food arrive in Kumasi to be distributed
True to the words of the government which were communicated by the Minister of Gender, Children and Social Protection, Hon. Cynthia Morrison during the last Ministers' Press address on Coronavirus, trucks of food has arrived in the Ashanti Regional capital of Kumasi to be given out to the vulnerable and less privileged in the region.
The  food items which were mainly dry rice and fish were handed over to faith-based organizations and the various MMDCEs and DCEs to do the distribution.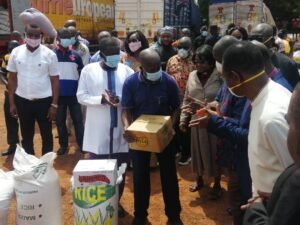 Speaking in an interview with a section of the media, Deputy Gender Minister Freda Prempeh said the foods will be repackaged into smaller bags for distribution in various households.
She explained that the items would be distributed to vulnerable groups like head porters, street dwellers and homeless people during the lockdown period.
Source: mynewwsghana.net