Ghana News
Go To Court – US Ambassador Advises Mahama
The United States Ambassador to Ghana, Stephanie Sullivan, has advised President John Dramani Mahama, to go to court over the results of the 2016 elections.
"The United States expects that any electoral disputes would be resolved through established legal channels, in keeping with Ghana's hard-earned reputation as a shining example of democracy in the region and across the world," the statement issued by the representative of the US government said.
The Electoral Commission figures indicate that Mr Akufo-Addo won 6.7 million votes — 51.6% of the total votes cast — while Mr Mahama garnered 6.2 million votes or 47.4%
The flagbearer of the opposition National Democratic Congress, former President Mahama, on Thursday insisted that the party would not accept what he described as a fictional result.
In his first speech, more than 24 hours after the poll results were released, Mr Mahama said the EC has been biased.
"We will not accept what we know to be a fraudulent outcome of these elections," he said at a press conference. "We will take all legitimate steps to reverse this travesty of justice".
"It is now obvious to many objective minds that the Chairperson of the Electoral Commission has been used to manipulate results from the various constituencies and in that process seek to subvert the sovereign will of the Ghana People"
Mr Mahama cited interference by the Ghana Armed Forces (GAF) to change results in certain constituencies.
"Armed forces featured heavily as an intimidating measure to reverse election results, and they continue to be used in the same intimidating role to insist on recounts in areas in which the incumbent has lost whilst arm-twisting election officers during these supposed recounts," he alleged.
But the US government urged all aggrieved parties to use the legal system to address their concerns.
"The U.S. government stands ready to continue our strong partnership with the government and people of Ghana to advance our shared prosperity."
The US Ambassador while congratulating President Akufo-Addo described the just-ended presidential and parliamentary elections as "free and fair".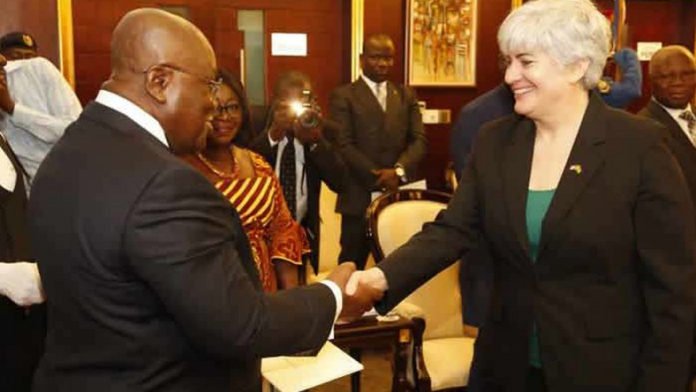 The NDC has given indications that it would use every legitimate means to challenge the result—a hint that it may head to the courts.
In 2012, Nana Akufo-Addo went to court to successfully challenge the result of that year's election.
SOurce: Theghanareport.com