He lost his wife, daughter to June 3 fire; and lost his business last month
theghanareport
A victim of the June 3 disaster, who spent four years in the hospital, seems inseparable from tragedy as he suffers another misfortune.
Exactly five years after the incident today, the man who lost his wife and daughter through the ravaging fire that also killed several people is still counting his losses as 350 fowls out of 400 on his poultry farm perished under mysterious circumstances.
Mr Suraj Kassim, was among hundreds of people who got injured in the June 3, 2015 disaster that killed more than 150 people, and injured scores of others, at the Kwame Nkrumah. The explosion at a Goil Fuel Station, near the GCB Bank, as a result of hours of heavy downpour that caused floods in the area, unleashed a tragedy regarded as the worse in Ghana's history.
Kassim, who was terribly scarred from the disaster, took to raising poultry after passengers refused to board his vehicles—they were afraid of his disfigured face.
He received financial support after a Daily Graphic publication last year and saved part of the money to start a poultry farm at Kasoa, on a land he acquired while driving.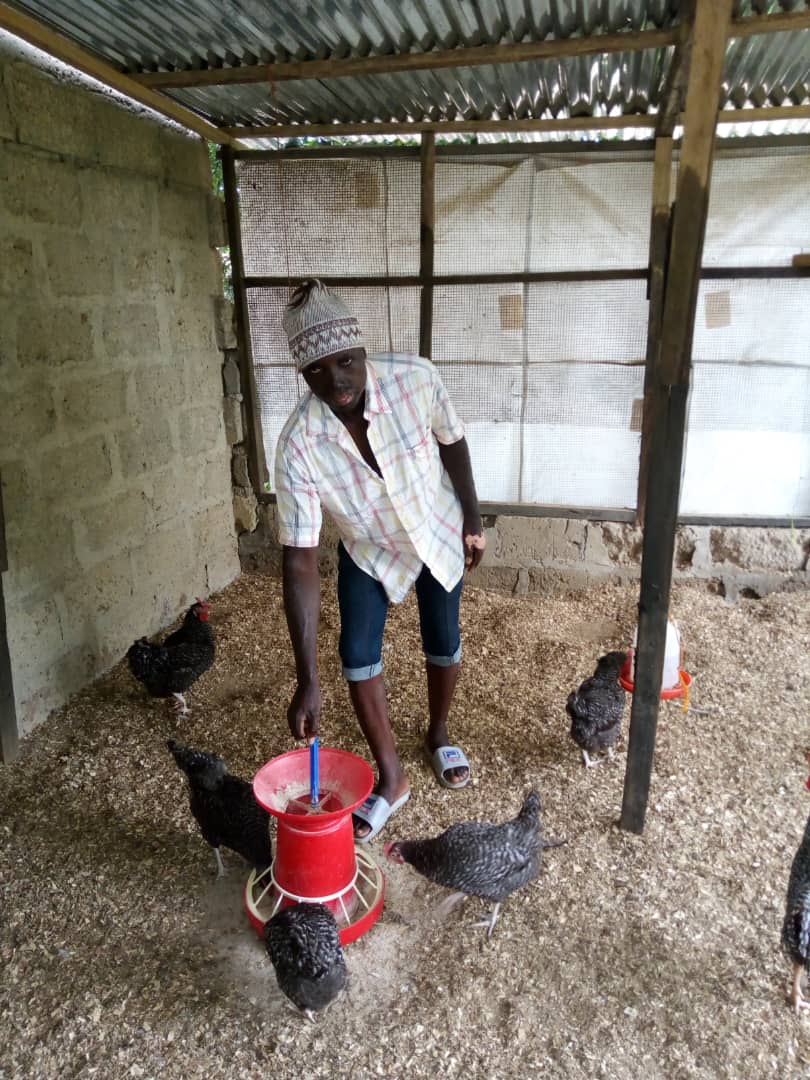 Another calamity
Kassim, who had eight surgeries after the accident, survived the ordeal which changed his life, but continues to live in agony. The latest one happened a month ago, and kept him in the hospital for two weeks, resulting in the near-collapse of his poultry farm.
"I went to the Kasoa Market to buy feeds for the fowls, but while entering the trotro, I hit my head against the car. I felt dizzy and was rushed to the Kasoa Polyclinic, where I was admitted for two weeks.
"When I returned, I realised the birds were just dying, left and right. 50 today, 10 tomorrow, 20 and so on. I lost 350 of them. I was left with only 50," he recounted his latest adversity.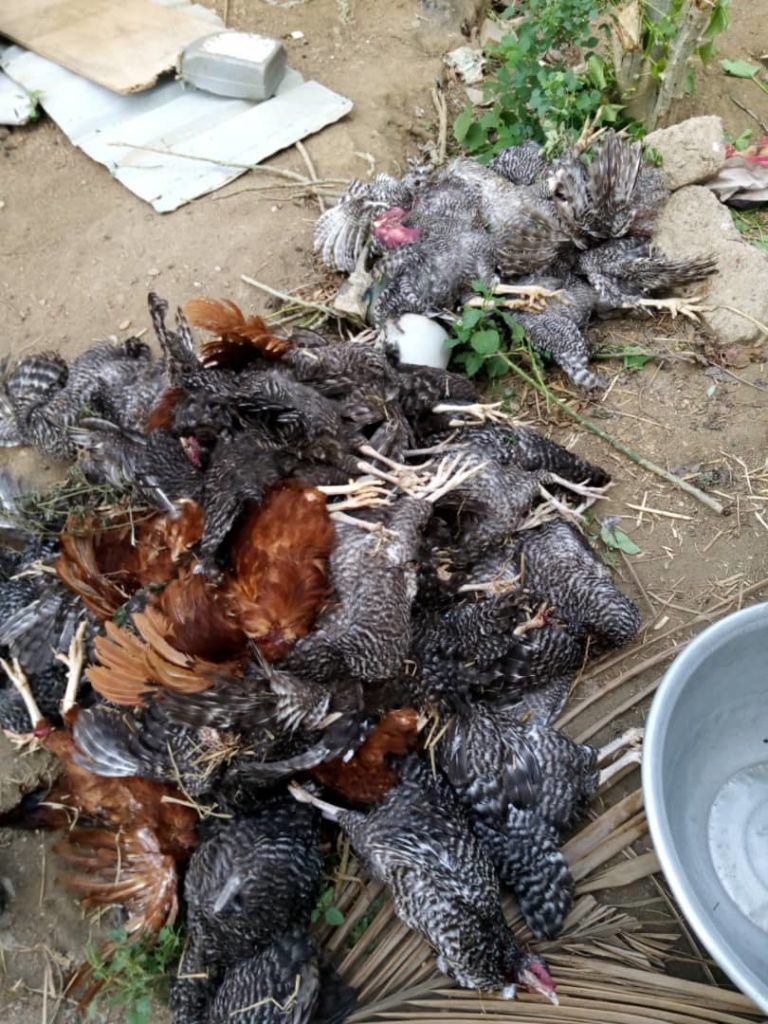 He said he would have sold the 350 birds for more than GHc 15,000.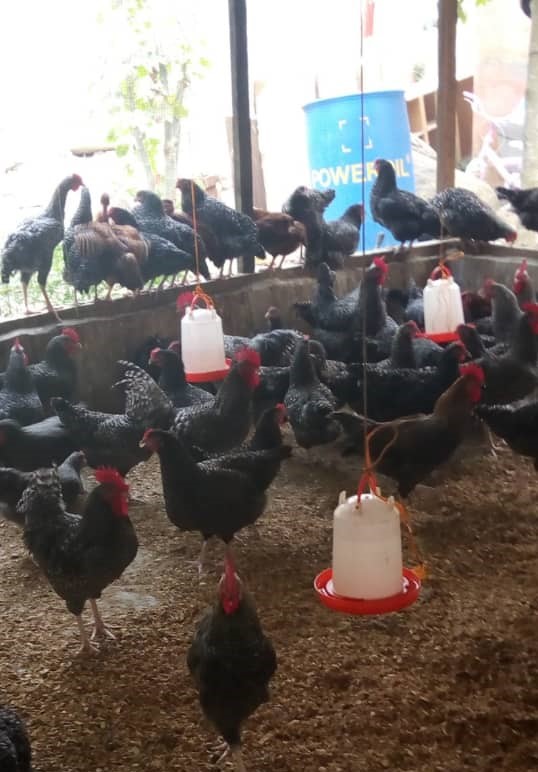 Five years after the disaster, Kassim is medically not out of the woods, he needs a helmet to protect him against head injuries as a result of severe burns he suffered in the tragic fire
"The doctors said If I had a helmet, what happened in Kasoa wouldn't have been that serious," he stated.
Kassim was discharged from the 37 Military Hospital in 2019, four years after the disaster.
The 41-year-old commercial bus driver, and father of four, spent 48 months in the hospital and in and out of the theatre for eight surgeries and bought many drugs. This left him broke.
While in the hospital with his face totally disfigured and a tube running through his head and discharging unwanted elements from his head into a container in his pocket, Mr Kassim Suraj, said he was motivated to fight and live because of his wife. Unknown to him at the time, his wife also died in the horrific accident with their seven-year-old child.
His medical report indicated that he suffered about 60% total surface burns with inhalation injury. His burns were described as mixed thick burns. His eight times under the knife covered skin grafts and various corrective and reconstructive surgeries.
His hospital bills amounted to GHc 27,000 and covered surgical procedures and post-operative management. The government paid for it.
Kassim was initially discharged by the hospital 10 months after the June 3, 2015 disaster, but in 2017 while on his routine thrice-a-week dressing to the hospital, doctors noticed that there were discharges coming from his head.
"It was like that liquid that comes out of a boil when it breaks," he described his wounds.
That began another journey of two years on admission in the hospital.
Grateful to doctors
In an emotional conversation that lasted for almost an hour, he stared blankly at the wall and repeatedly said:
"I'm really grateful to the hospital administration and the staff of my ward for their services and support for me. But for their support, I would not know what would have happened to me. I am deeply grateful to them. Sometimes they even contributed money to pay for my drugs."
He said during the first anniversary of the tragedy, he received GHc 10,000 from the government as compensation, but the amount was spent on moving up and down from Kasoa to the 37 military Hospital, where he went thrice a week for dressing his wounds.
Broke and with nothing to live on after he was initially discharged in 2016, he said he decided to go for his taxi, which somebody else was driving, but was bringing little to him.
"It was not easy. I wore a hat that covered my head. Sometimes, a passenger would sit in the car and the moment he or she sees my face, the passenger alight from the care out of fear. But there were others who sympathised with me and did not bother about my appearance. The car was my only source of income and it was helping pay the bills"
"But unfortunately, it broke down, and I didn't have enough money for repairs. It was at this point in March 2017 that I had to return to the hospital because of the discharge in my head. There was a lot of liquid dripping from my head," he said.
As a result of the hardships, he was going through,  he had to sell the taxi and added GHc 3,000 he received from the current Metropolitan Chief Executive of Accra, Mr Mohammed Nii Adjei Sowah, to pay for a deposit to be admitted back to the hospital and to start another cycle of treatment.
"Things were terrible sometimes, they [doctor] wrote medication for me, but it took time for me to buy it. The nurses in the ward were really helpful. Apart from the medications used for the dressing, I didn't pay for the other consumables.
The day of the disaster
On the day of the disaster, Kassim said he had closed early, but had to return to the Kwame Nkrumah Circle from his Nima residence (where he spent weekdays) to pick his wife, a food vendor at the Odawna Station.
He recollected the incident vividly as he drove his car through a pool of water which had engulfed the Kwame Nkrumah Circle. The severe nature of the floods was such that his engine got damaged, as the running water violently rushed in the whole car.
"I abandoned the vehicle at the station. I led my wife, our child and our house help in the flood in the midst of pouring rain to find another vehicle home. When we got close to the roundabout, the place had flooded.
"There were iron rods from the construction site all over the place so we decided to take a detour to walk towards the Nima Station through the GCB Bank, but when we got to the Goil Fuel Station, we realised that we could not cross the water.
"So we were waiting for the water to recede before we cross. It was at this point that I saw a friend's car parked at the Goil Station. So we all went to sit in," he said.
He recalled while there, they began to smell fuel strongly. His wife began to complain about being dizzy.
"So we got out of the vehicle. A few metres away, my wife shouted, and point at a gigantic fire behind me. I turned and to my surprise, I saw a raging fireball, and that was the only thing I could recollect, when I woke up hours later near the big Odawna drain. I had pains all over my body. My wife, child and house help were nowhere to be found.
He said he laid there for a few minutes before trying to stop a taxi to go to Adabraka Polyclinic, but every vehicle, he stopped, sped off.
He called me a ghost
Eventually, he decided to walk. Wincing in pain, he walked to where he last saw his wife, but there was no sign of her. In between walking and crawling,  when he got to the Polyclinic, a security man who opened the gate for him took to his heels screaming "ghost ghost" because the melanin on his skin had peeled off.
He said no one paid attention to him as the place was busy. With the pains in his body increasing and becoming unbearable, he quickly had to find another solution. So he managed to walk further down the road to the Greater Accra Regional Hospital, but the place was worse than the polyclinic.
"I crossed over to the roadside and joined a trotro. The mate didn't see me enter the vehicle. When he saw me later, he was afraid, but the driver managed to convince him.
" I alighted at 37 and crossed over to the hospital before I was rushed to the emergency unit by nurses and some hospital staff who saw the condition I was in," he recalled.
He said he was in a coma for days and when he regained consciousness, a doctor, whose name he gave as Colonel Dr Adom, asked about his wife, whom he described to him. The doctor promised to follow up and returned later to tell him that his wife was fine.
"That moment gave me the drive to live. I wanted to see her and the children. I didn't want to die and live her with the children.
"They got psychologists who were talking to me each day until the day I was discharged, that I got to know my family had died in the fireball," he recalled nearly in tears.
Disclaimer: The submission above does not in any way represent the thoughts, ideas, or opinions of Mynewsghana.net. Writers take full responsibility for all comments made.