'The palace Okyenhene is building under Akufo-Addo is bigger than Manhyia' -Benjamin Esuman alleges
Ghanaians have a little over 2 months to our most anticipated day on our political calendar this year. All eligible Ghanaian voters will parade to their respective polling stations to choose their preferred Presidential and parliamentary candidates to lead the nation for another 4 years.
All the leaders have begun doing the necessary to win more hearts and solicit for support ahead of the poll. President Akuffo Addo recently pulled massive crowd when he officially prevented himself to the elders in the Eastern Region.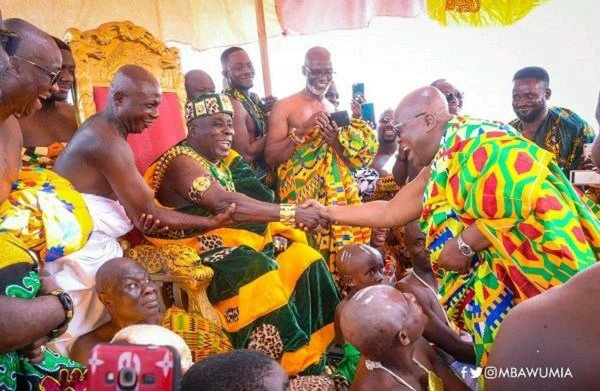 It was a heated discussion in the studios of Starr 103.5FM this early morning as a Communication member of NDC made some yet disturbing allegations against Okyenhene and President Akuffo Addo.
Benjamin Esuman, a Communication Team Member of the opposition National Democratic Congress (NDC), has alleged that Okyenhene endorsed President Akuffo Addo because he enjoys better under his tenure. He has said that, talking about the President being given an ecstatic welcome; it is normal for every President to be received massively in his hometown unless you are expecting his people to reject him.
His comments follow after President Akuffo Addo paid a courtesy call on the Chiefs and leaders of Okyenman where he was openly endorsed and blessed by the Okyenhene Osagyefo Amotia Ofori Panyin. The okyenhene speaking on behalf of all the chiefs in his constituency eulogised President Akuffo Addo for his good leadership skills even in these unusual times when the country was caught by COVID-19.
But according to Mr. Benjamin, the endorsement is nothing of a sort of threat to NDC because Okyenhene wants President Akuffo Addo to stay in office so he can enjoy.
He also indicated that the President has the plight of the Akyem people at heart because he has even abandoned the Ashanti Region where he gets massive votes from to develop his hometown. He alleged that the palace being built by Okyenhene is even bigger than Manhyia Palace where the Asante King, Otumfuo Osei Tutu II is.
In his words and monitored by Ghana_News, he said, "Go and check the road in Akyem Abuakwa, double asphalt road. The palace Okyenhene is building under Akuffo Addo's tenure is bigger than Manhyia."
He added, "The bigger matter that is facing Ghanaians is not what Okyenhene did. If you are Okyenhene who gets Ghc1.8M from GNPC under the leadership of Nana Addo, won't you and your chiefs endorse him?"