Ghana Politics
We won't fall for this scam – Ghanaians descend on Akufo-Addo over his 94 hospitals promise
The President of Ghana, Nana Addo Dankwa Akufo-Addo, during his eighth address to the nation on COVID-19 promised to construct a 94 hospitals spreading across all 88 districts in the country in the country.
Speaking in a televised broadcast, he said;
"We will, this year, begin constructing 88 hospitals in the districts without hospitals. It will mean 10 in Ashanti, nine in Volta, nine in Central, eight in Eastern, seven in Greater Accra, seven in Upper East, five in Northern, five in Oti, five in Upper West, five in Bono, four in Western North, four in Western, three in Ahafo, three in Savannah, two in Bono East and two in North-Easter regions.
Each of them will be a quality, standard design 100-bed hospital with accommodation for doctors, nurses, and other health workers and the intention is to complete them within a year."
Many Ghanaians on social media have come out to express their lack of trust in the words of the president.
Some claimed his promise is a scam which they will not fall for and others said he it was impossible to achieve such a fete in 8 months.
Read some of the comments below: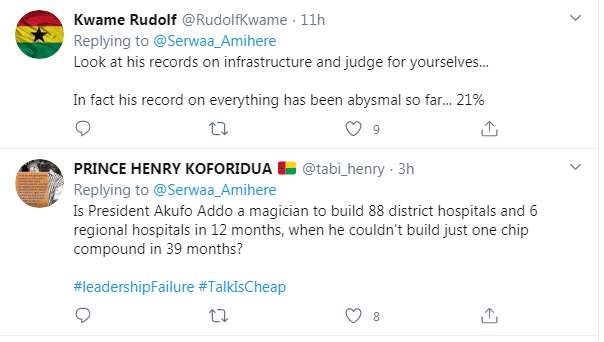 Source: mynewsghana.net